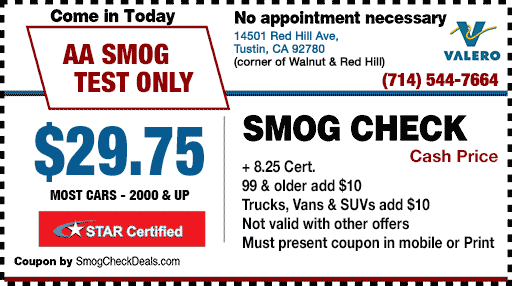 14501-A Red Hill Ave,
Tustin, CA 92780
(corner of Walnut & Red Hill)
(714) 544-7664
Business Hours Mon–Sat 8:00 AM – 6:00 PM
Why you should bring your vehicle to us!!!
Easy access
No repairs no rip-off
We beat any competitor coupon
Best customer service
We want you to come back & refer us to others
We Smog Diesel
About Tustin:
Tustin is a city located in
Orange
County, California, in the Los Angeles metropolitan area. As of January 1, 2009,
Tustin
had an approximate total population of 74,825. The city is located next to the county seat, Santa Ana, and does not include the Tustin Foothills.
As of the census of 2000, there were 67,504 people, 23,831 households, and 16,062 families residing in the city.The median income for a household in the city was $55,985, and the median income for a family was $60,092. The Market Place is a shopping, dining and entertainment destination where families come to spend, explore and discover. AA Smog Test Only is located at the heart of Tustin helping residents to get their vehicles DMV smogchecked.
Tustin is rooted in the past.  Its early heritage is embodied by the captivating historic homes and commercial storefronts along the streets of Old Town. But also like its many grand old homes and trees, Tustin continues to flourish with existing and new communities, modern shopping centers and in its diverse industrial base, ever reaching out to the future.
Tags: Smog Check Tustin, Test only Tustin, Smog Tustin, DMv smog in
Tustin, Smog Test Tustin, Tustin Smog Center, Tustin Smog Station,
Tusting Smog Shop, Cheap smog tustin, smog discount in Tustin, smog coupon